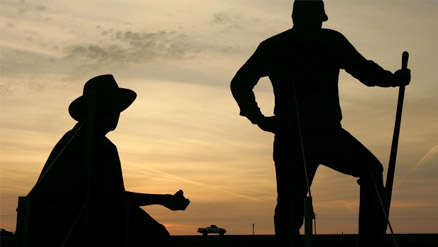 Brandon & Tibbs Accountants has been serving the financial and accounting needs of clients in the Salinas Valley and surrounding Central Coast for over 55 years. We've grown our roots in one of the most productive agricultural regions in the world, where the key to our success has always been a traditional work ethic—based on integrity, conscientiousness and building strong business relationships—combined with sophisticated knowledge of tax law, financial and accounting matters, and business know-how.
The founding fathers of the firm - James Brandon, a football player who competed in Hartnell College's legendary Junior Rose Bowl Championship, and Warren Tibbs, the son of a Monterey County Sheriff, decided to join together in 1964 to use their financial acumen to give back to their community. Their business philosophy was later passed down to Certified Public Accountants Pat Marchello and Michael Corlett. Pat was recruited by Brandon & Tibbs 40 years ago, when he was finishing up his Bachelor of Science degree in accounting at Arizona State University. Mike is a third-generation native of the Salinas Valley who got his Bachelor of Science degree in accounting at San Diego State University before returning to his homeland. He recalls that when he was invited to be a partner of the firm, he was told it was "because you care."
It is a philosophy of competence and caring that has driven Brandon & Tibbs Accountants from its inception and still stands today. We care about our community—the agricultural legacy of the valley, the beauty of the Central Coast and surrounding foothills, the innovative business sense of the people who live here. Whether you are a small business owner, a CEO, a real estate investor, a retiree or someone who simply needs tax help, Brandon & Tibbs will give you the personal professional service that you need to achieve your financial goals. We understand that our success is a result of your success.